Last updated on May 24th, 2023 at 07:02 pm
Estimated Read Time:
10
mins
It's difficult to roam around The Long Dark without a map. But, if you have spent some time in the long dark, you might have searched for a detailed map of all the regions in The Long Dark Game. Hinterland Studio doesn't provide any in-game maps, but a community member Whiteberry has solved that problem by making the Long Dark maps. We have collected them all right here so that you can stop stumbling bears every time you walk around a tree.
The Long Dark maps: Detail of all regions.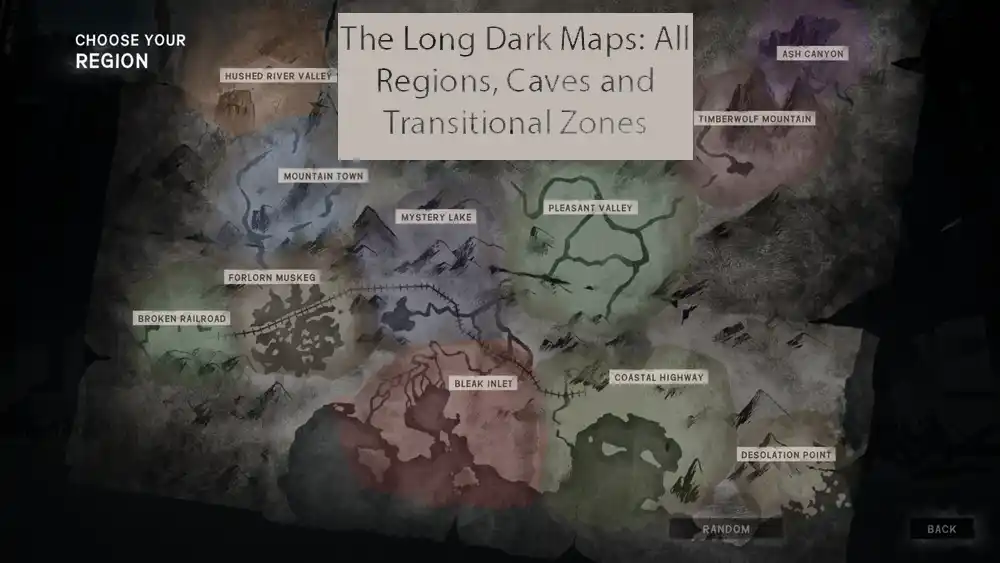 The first map is the entire in-game map of The Long Dark.
This was shared by Hinterland studio some time ago.
It includes the new Bleak Inlet region, but the Blackrock region is not included in the entire map of the long dark.
The main Regions included in this map are

Hushed River Valley
Ash Canyon
Mountain Town
Mystery Lake
Pleasant Valley
Forlorn Muskeg
Broken Railroad
Bleak Inlet
Coastal Highway
Desolation Point
You might also like "there is no game". Interesting short puzzle with an amazing ending.
Bleak Inlet Map

The bleak inlet is the 10 region added in the long dark, that connects Forlorn Muskeg on the North and Ravine on the North-East
This area is the home to several Timberwolves, bears, and Moose.
Roaming in this area with firearms is dangerous.
This region is cold compared to Timberwolf mountain.
The region offers fewer artificial and natural shelters.
Blackrock Region Map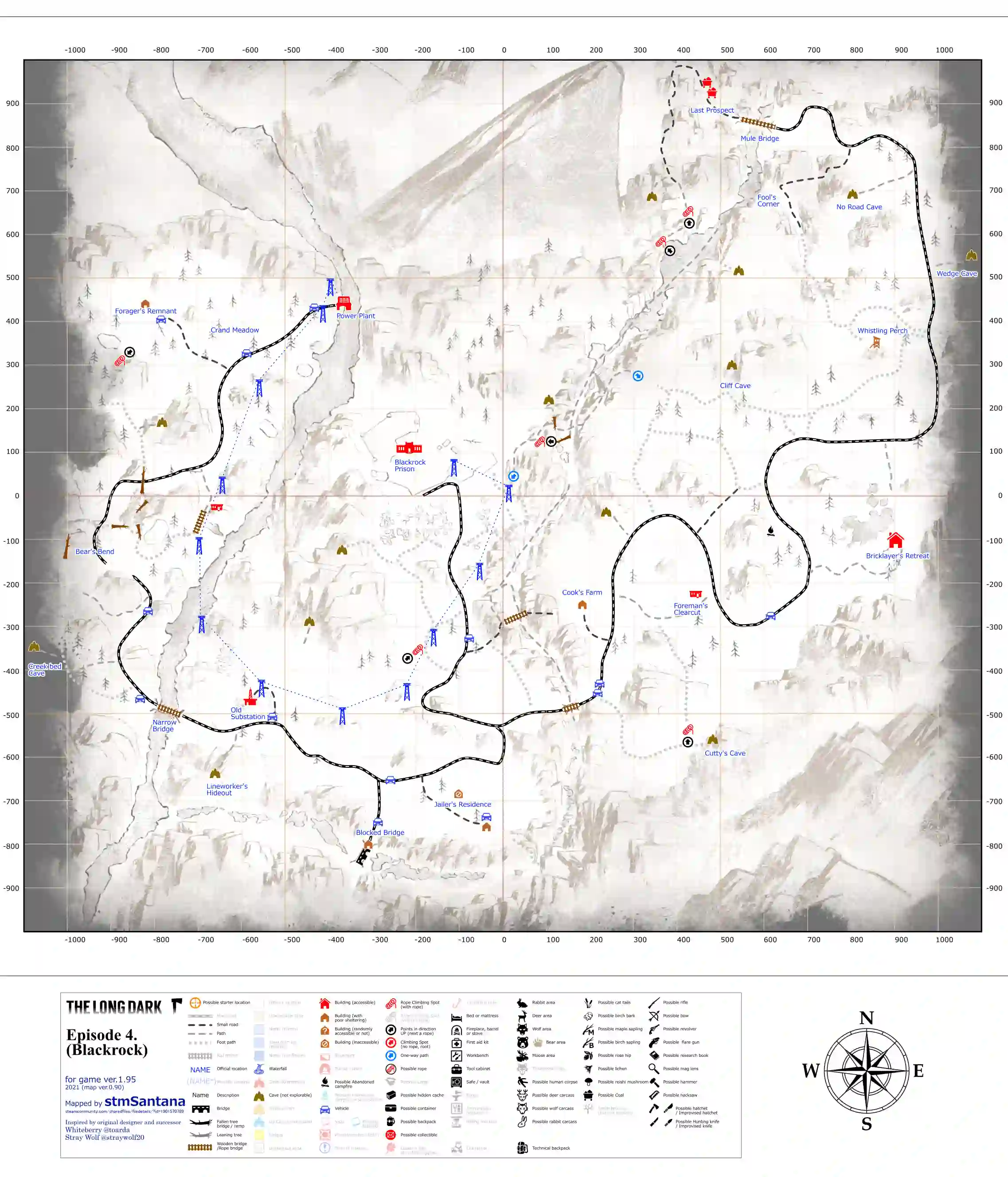 Black Rock is the 12th region added to the Long dark in 2021
This area is marked as a low-medium difficulty and is not suitable for new players.
The main areas of the region are Blackrock Prison, Last Prospect, Bricklayer's Retreat, Foreman's clearcut, Old Substation, and Powerplant.
Black Rock has a high hostile wildlife density, however; it also offers some great loot.
Blackrock Prison Map

Black Rock Prison resides in the Black Rock region of the game.
The prison has high loot and has 3 floors.
This area might have 3 timberwolves and a bear.
The main areas in this region are Gatehouse, Infirmary, Workshop, Watchtower, Garage, Prison Cells, and Warden's office.
Mystery Lake Map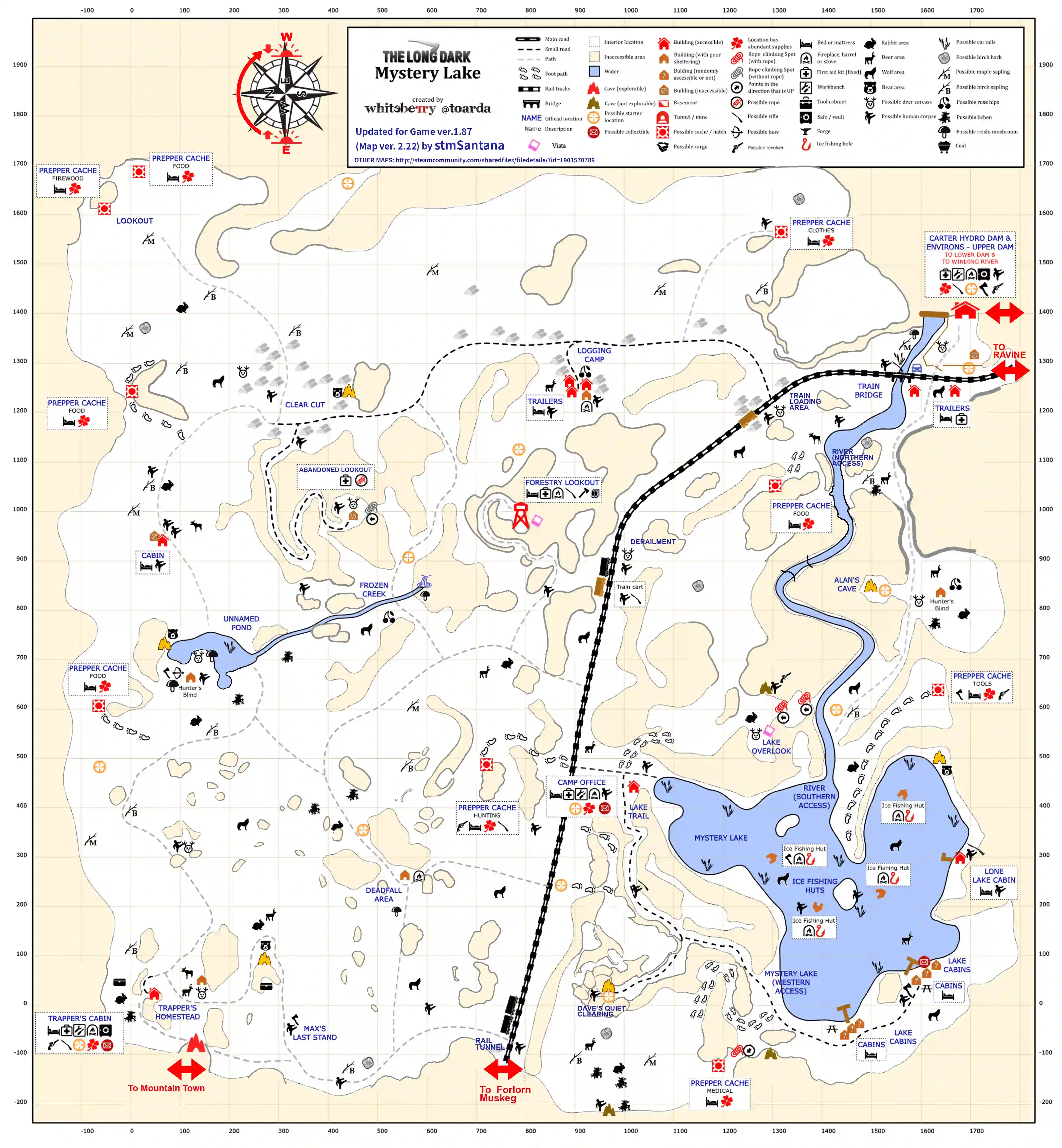 Mystery Lake is the primary region on The Long Dark map.
"Ideal for new players. A balance between wilderness and man-made shelters, resources, and wildlife."- In-game description
It is first available in survival mode.
The region is named after Mystery Lake, a lake fed by the release of water from Carter Hydro Dam.
It connects the three important regions, including the newest Forlorn Muskeg, Pleasant Valley, and Coastal Highway through Railway.
It has a lot of good buildings including the Trapper's Cabin. Mystery Lake has many advantages including great loot.
The downside of Mystery Lake is a whole pack of wolves that roam around it.
Forlorn Muskeg Map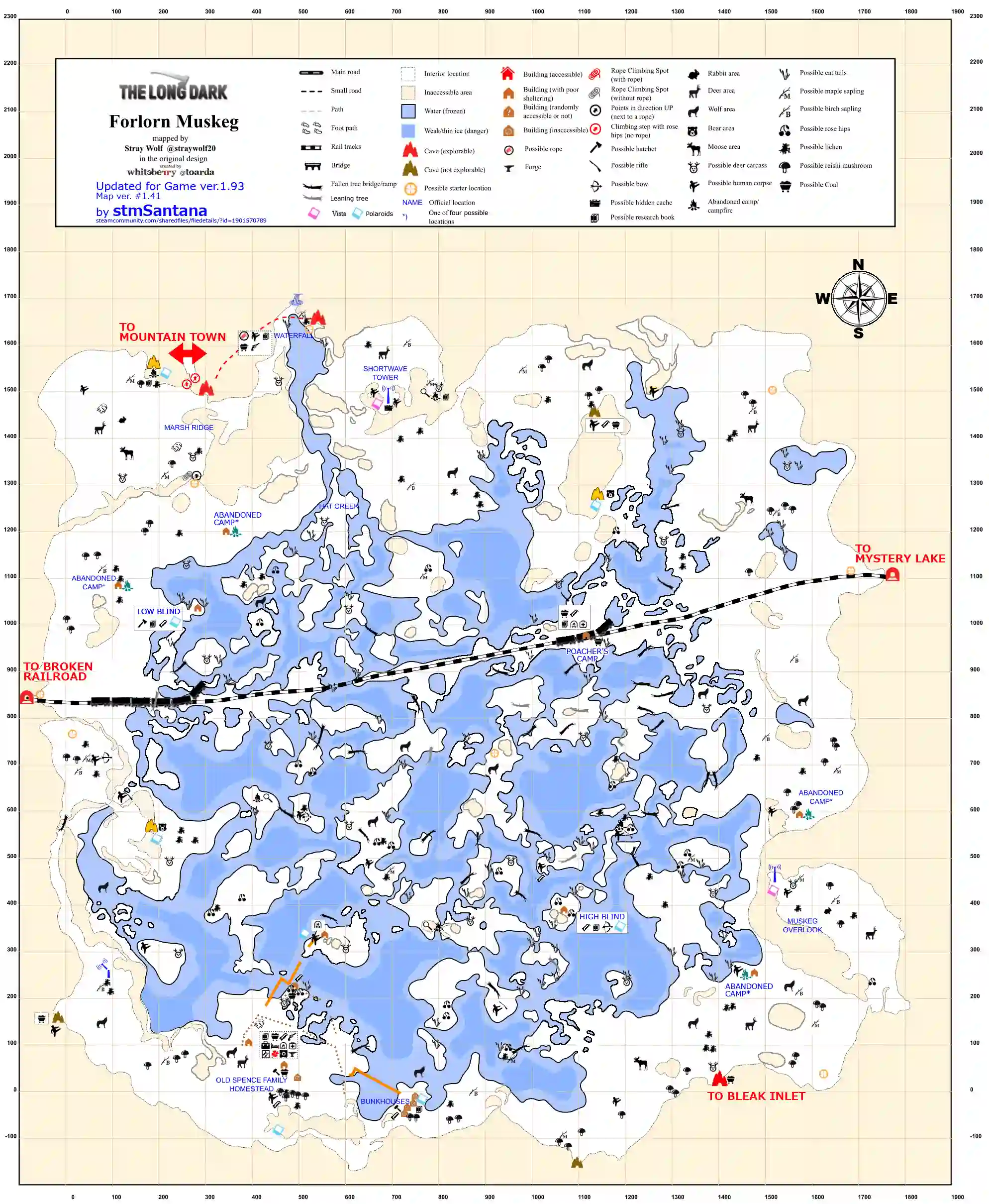 It is the latest region in The Long Dark Map. It's the sixth region to be added to the long dark.
This region is mostly flat with some hills surrounding a large, frozen bog.
It was introduced when Hinterland studio added the clothing system to the game.
Forlorn Muskeg has only a few sheltered areas and structures, but most of them are destroyed.
Mostly intact building here is bam of the Old Spence Family Homestead, containing a bed, a workbench, and a forge.
The deep cave near the waterfall and radio tower can also serve as a temporary shelter.
Like Timberwolf Mountain There are almost zero places to sleep.
It connects with Mystery Lake and is full of wolves and bears.
The main reason to go there is to use it as a second forge, allowing you to save the trip to Desolation Point.
Carter Hydro Dam & Environs, Upper/Lower Dam, and Winding River Map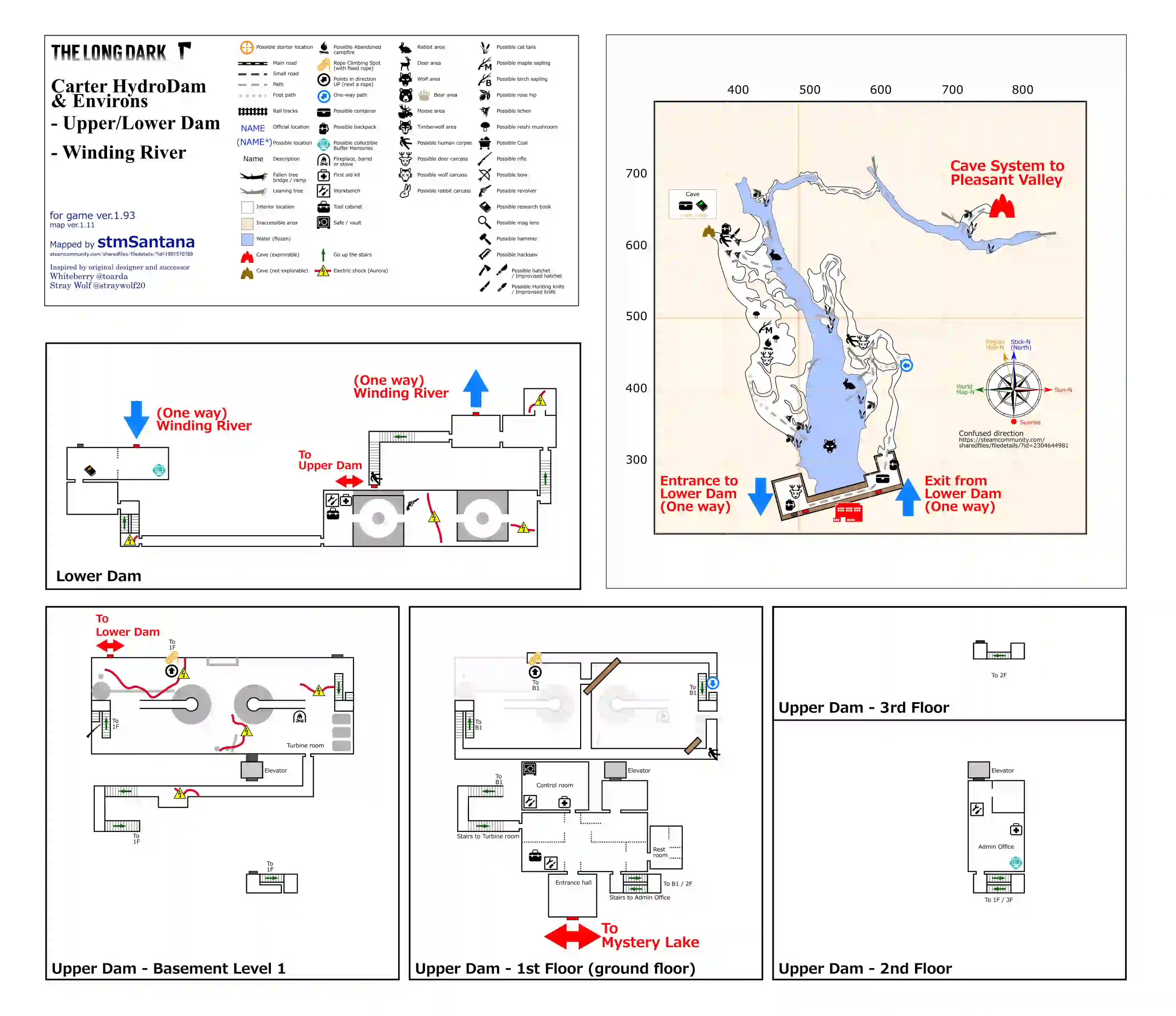 Carter Hydro Dam in The Long Dark maps can hardly be called home.
It is a region that connects Mystery lake to Pleasant Valley.
It contains three workbenches, a fire barrel, and usually a lot of valuable loot (including high-quality clothing, tools, ammo, and sometimes a rifle).
It also has a lonely wolf named fluffy that roams in this area. You can sometimes find her inside the dam itself.
In the event of an aurora touching any of the cords in the dam will inflict a burn and will damage the player.
Ravine: Raven Falls Railway Line Map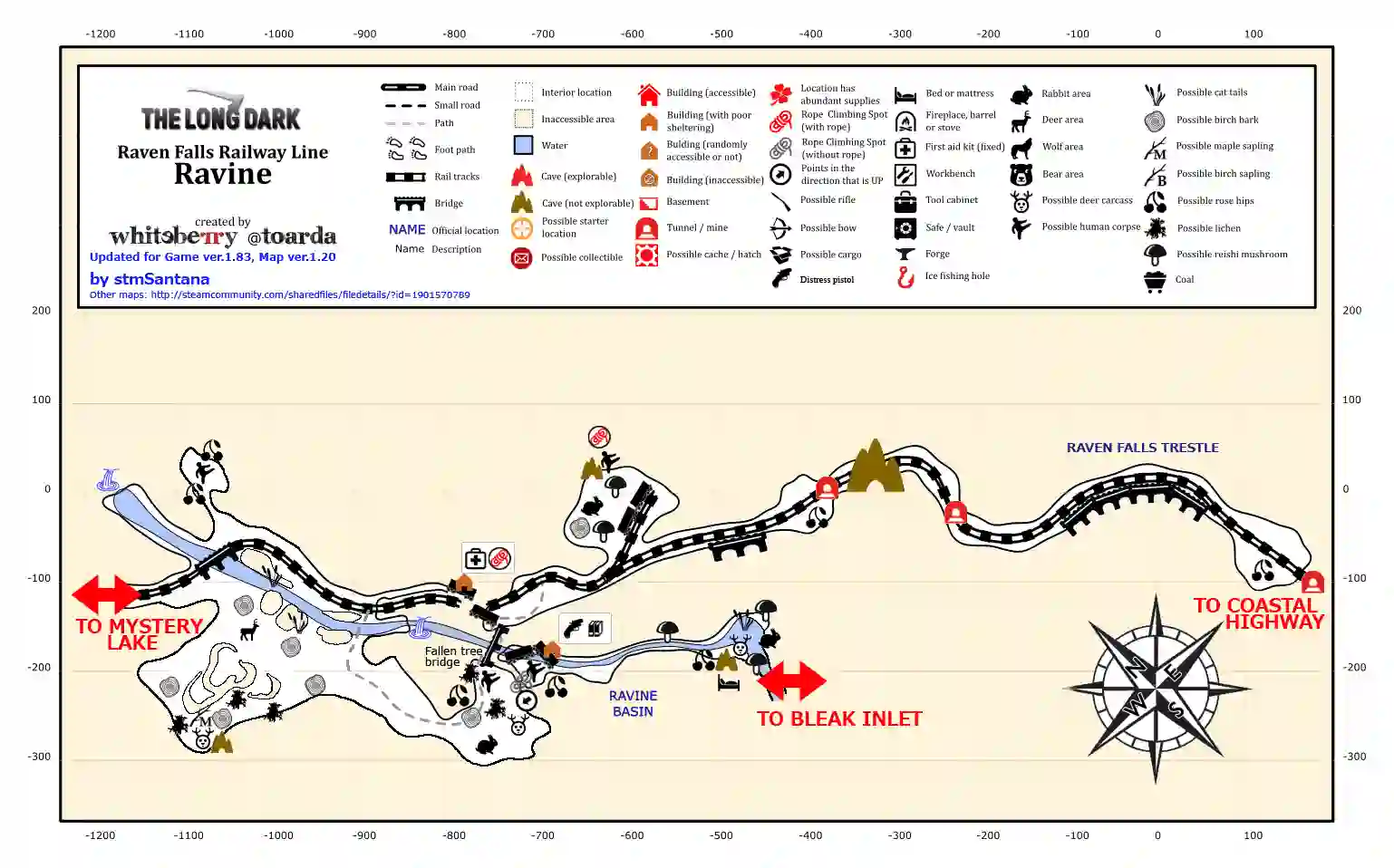 This Ravine Falls Railway Line, also known as The Ravine is a long transition zone, connecting Mystery Lake to Coastal Highway.
You might find some wildlife and some loot there.
The Ravine is home to many animals. Some deer may be seen on the side closest to Mystery Lake.
You can find a distress pistol, some flare shells, a human corpse, a deer carcass, rabbits, cattail stalks, a cairn, some other random loot, and a fully sheltered cave with an improvised bed inside.
The rope climb back is a very long one. Using coffee or sleeping can prevent the player from becoming stranded in the Ravine Basin due to exhaustion.
It's not a place for shelter besides some caves if you plan to go to Coastal Highway through Mystery Lake, leave early in the morning and make sure you complete the trip.
Don't get caught out in the cold unless you are prepared.
Pleasant Valley Map

This map will come in handy while passing the Pleasant Valley while playing The Long Dark game, it's huge, and you have to spend some time there.
It's full of all kinds of wildlife and one of the best places to call home.
This area connects you with TimberWolf Mountain, Coastal Highway, and Mystery Lake.
This area can punish you with a cold, so ensure you have everything you need.
Beware aggressive bears and wolves that may wait just around the corner.
Coastal Highway Map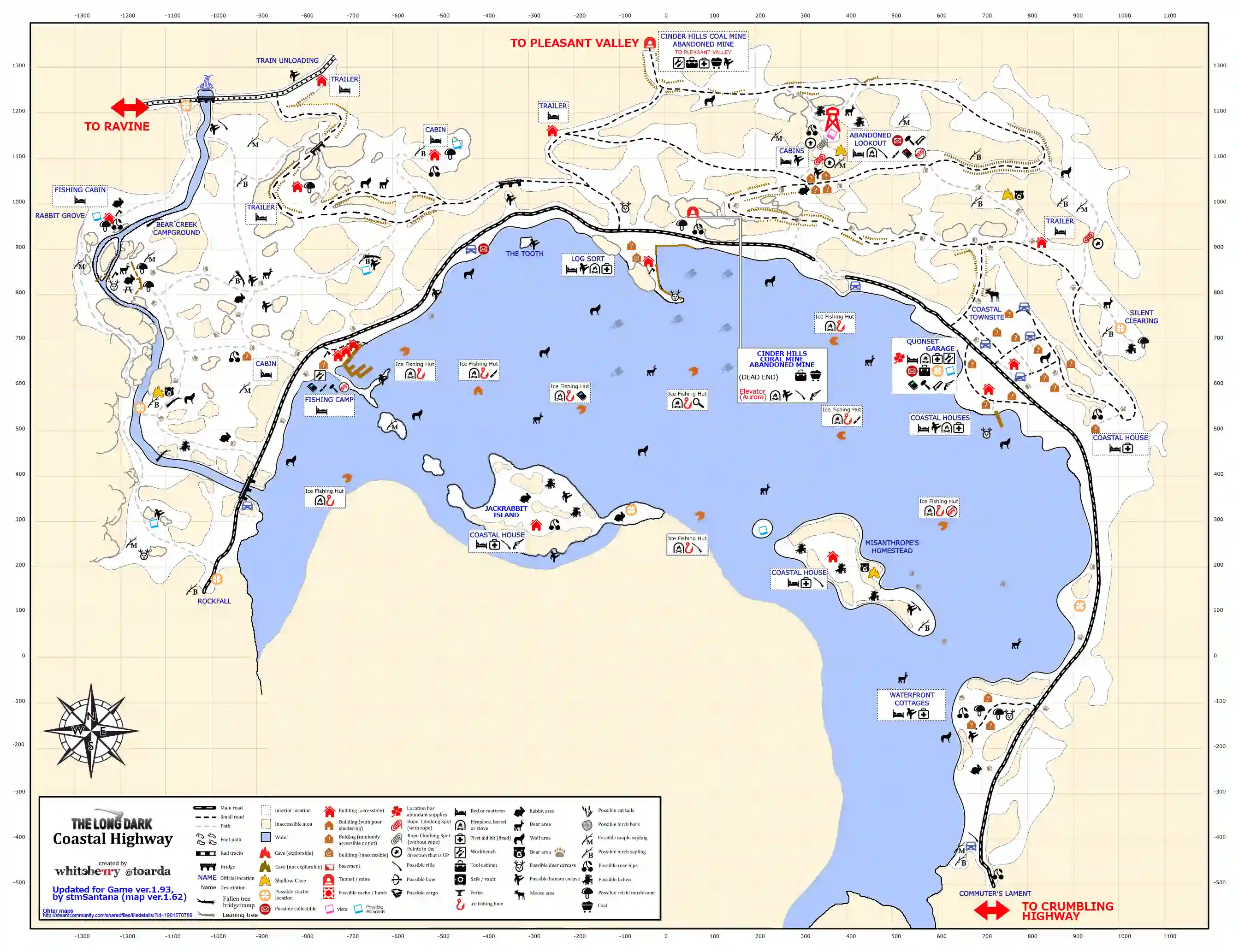 Coastal Highway is another significant place in The Long Dark maps, because of its valuable buildings and loot. You probably need a map so you don't miss any of that.
The region is mostly steep hills around a bay area.
The highway runs along the bay with some houses along the way and a small village.
It is a tough place to travel if you are in the mountains.
The area has several fishing huts and two islands with houses, one is jackrabbit Island and the other is Misanthrope's Homestead.
Out of ice and along the highway you can spot predators at a distance, making it a perfect place for not getting ambushed by wolves and bears.
The ice covering the frigid waters may be thin near the coast's outer edge.
It also has a Quonset Gas Station. If you are going there just keep in mind that it frequently has three wolves and a bear nearby.
It connects to Mystery Lake through Ravine, Pleasant Valley, and Desolation point through Crumbling Highway.
In terms of region difficulty, some may find the highway region easier than Mystery Lake due to vital resources and overall warmer temperatures.
Crumbling Highway-Old Highway Connector Map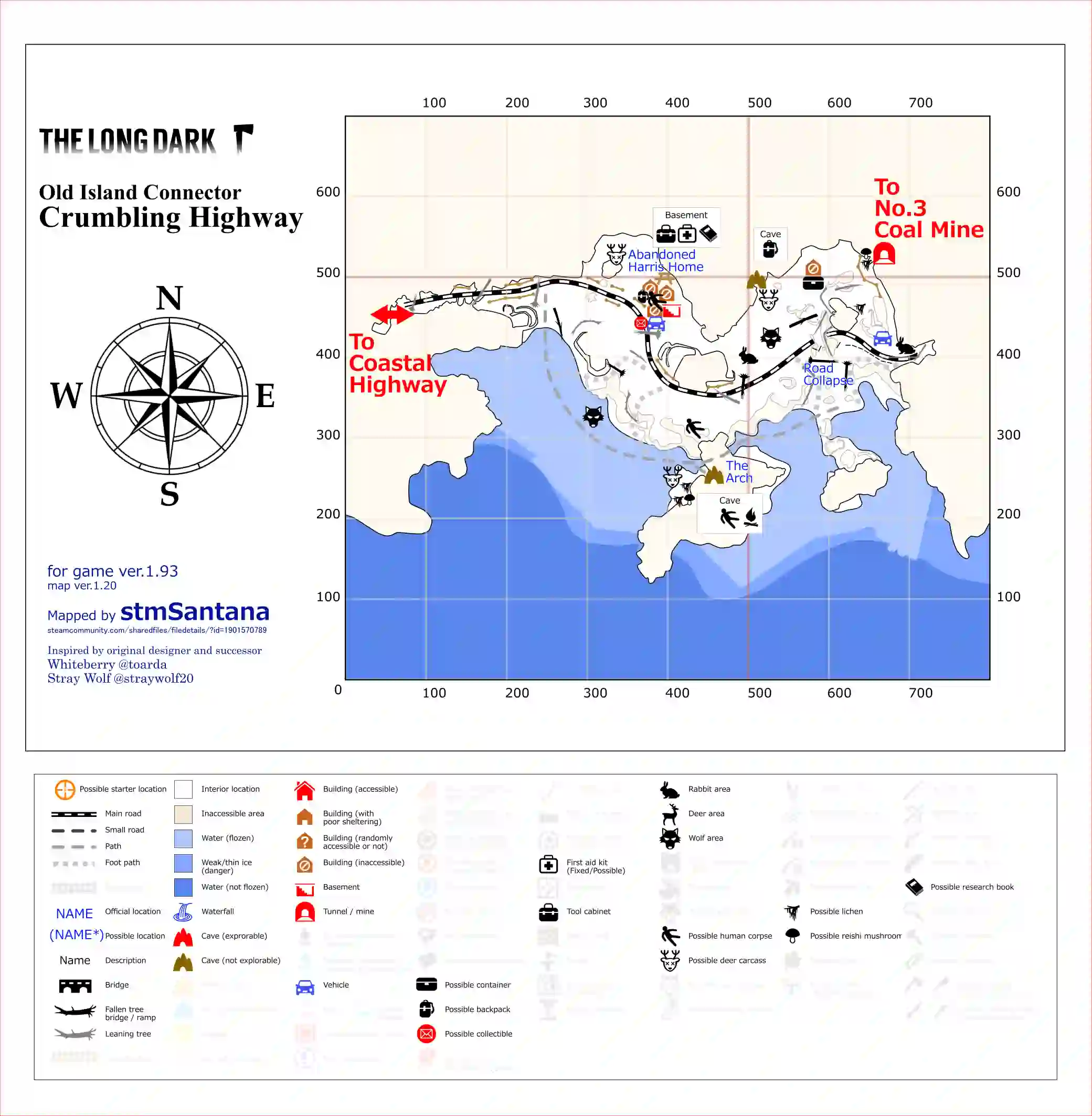 You might not need a map to go through the Crumbling Highway region of the long dark. Unless you are looking for some specific items.
Staying in this area for the night is not a good idea unless you have a bedroll to sleep in the only indoor building in this region.
Wildlife in this area mainly consists of wolves and rabbits.
This transition zone has only 5 locations to discover, including the connector mine also known as "No. 3 Coalmine" and the basement of the Abandoned Harris Home.
There are some cars and caves in this area, they might have something you need.
Leave early from Coastal Highway to Desolation Point through Crumbling Highway in just one day.
Desolation Point Map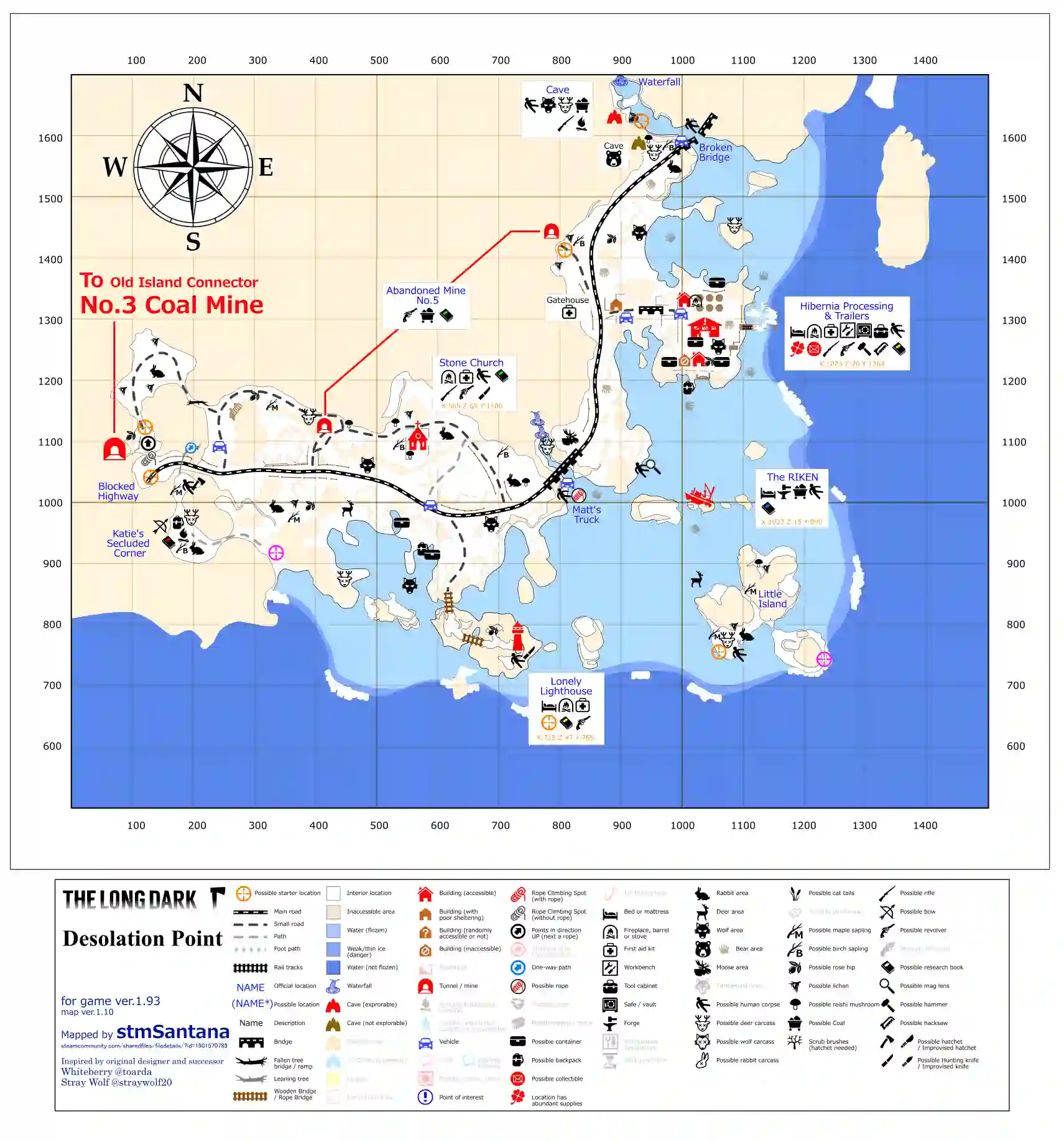 "For intermediate players. Several key shelters, plenty of hostile wildlife, and harsh weather conditions to be found around these remnants of a once-thriving whaling industry."- in-game description.
It is often described as a stretch of coastal highway pockmarked with some abandoned remnants of a formerly thriving whaling industry.
This region is at the end of Coastal Highway, passing through the Commuter's Lament, and then onward through Crumbling Highway and No. 3 Coal Mine.
It has 16 locations to loot, including the connector mine with Crumbling Highway.
It includes several areas of interest, including Riken, one of two locations that feature a forge.
This region has 2 bears and 5-8 wolves patrolling within it. Be careful and prepared.
If you like to play in interloper you will need the forge, but first, find a heavy hammer.
According to the Desolation Point map, it is cut off from other regions, except Coastal Highway.
It's a place you can call home, get in, do your looting and crafting and then head back to someplace warmer.
Timberwolf Mountain Map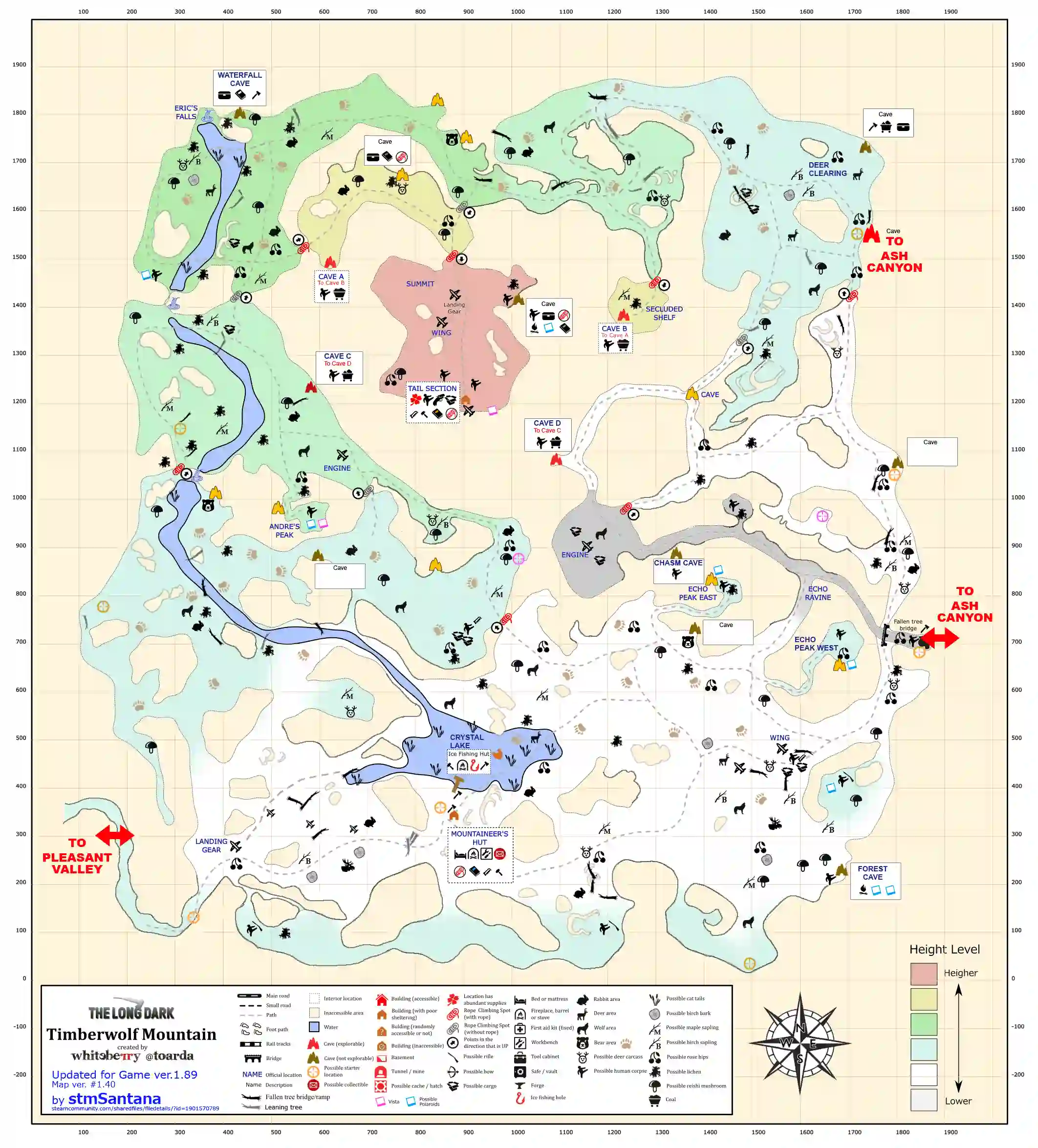 Timberwolf Mountain is a region that requires the map more than any place in the game.
Timberwolf Mountain is the fifth region to be introduced in The Long Dark maps.
It's commonly considered the most difficult to survive due to frigid temperatures and frequent blizzards. These conditions limit travel outside.
Timberwolf Mountain features every kind of wildlife.
The main reason to go there is to reach the summit.
Timberwolf Mounting has no good place to sleep indoors.
It has the Mountaineer's Hut, with a huge hole in the roof so it won't be the warmest place you ever sleep in.
Other than Mountaineer's Hut, Ice Fishing Hut is missing a door (so it's also not warm)
Only go to Timberwolf Mountain if you are geared up and have everything to stay fed and warm.
Defiantly go there because it's one of the coolest places to visit in the game.
Broken Railroad Map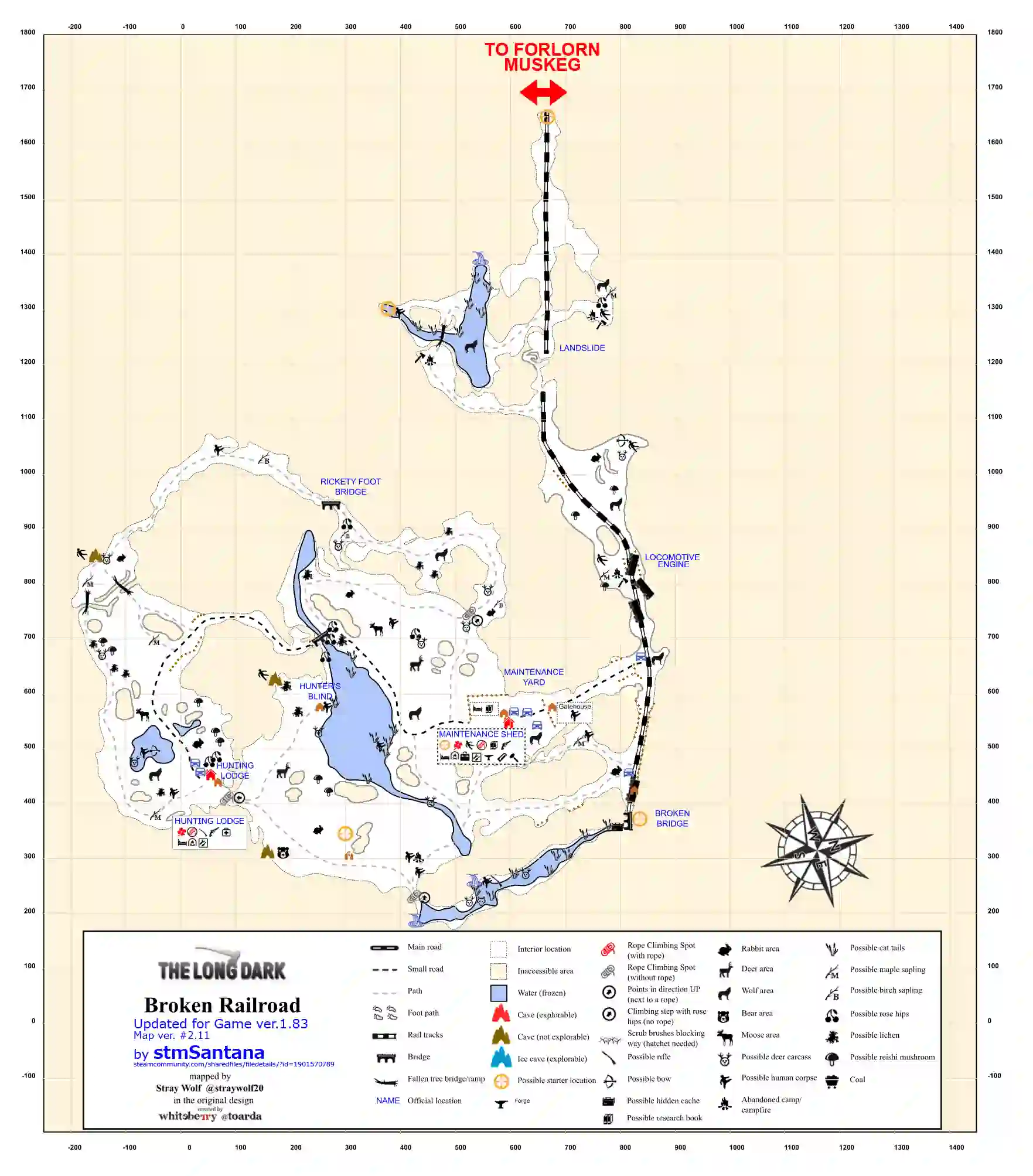 The Broken Railroad region is for the intermediate players.
This region has many wolfs and a bear.
A firearm is required to roam in this area.
It is the seventh region added in the long dark.
Food sources in the Broken Railroad area are very limited.
Mountain Town Region (Milton in survival) Map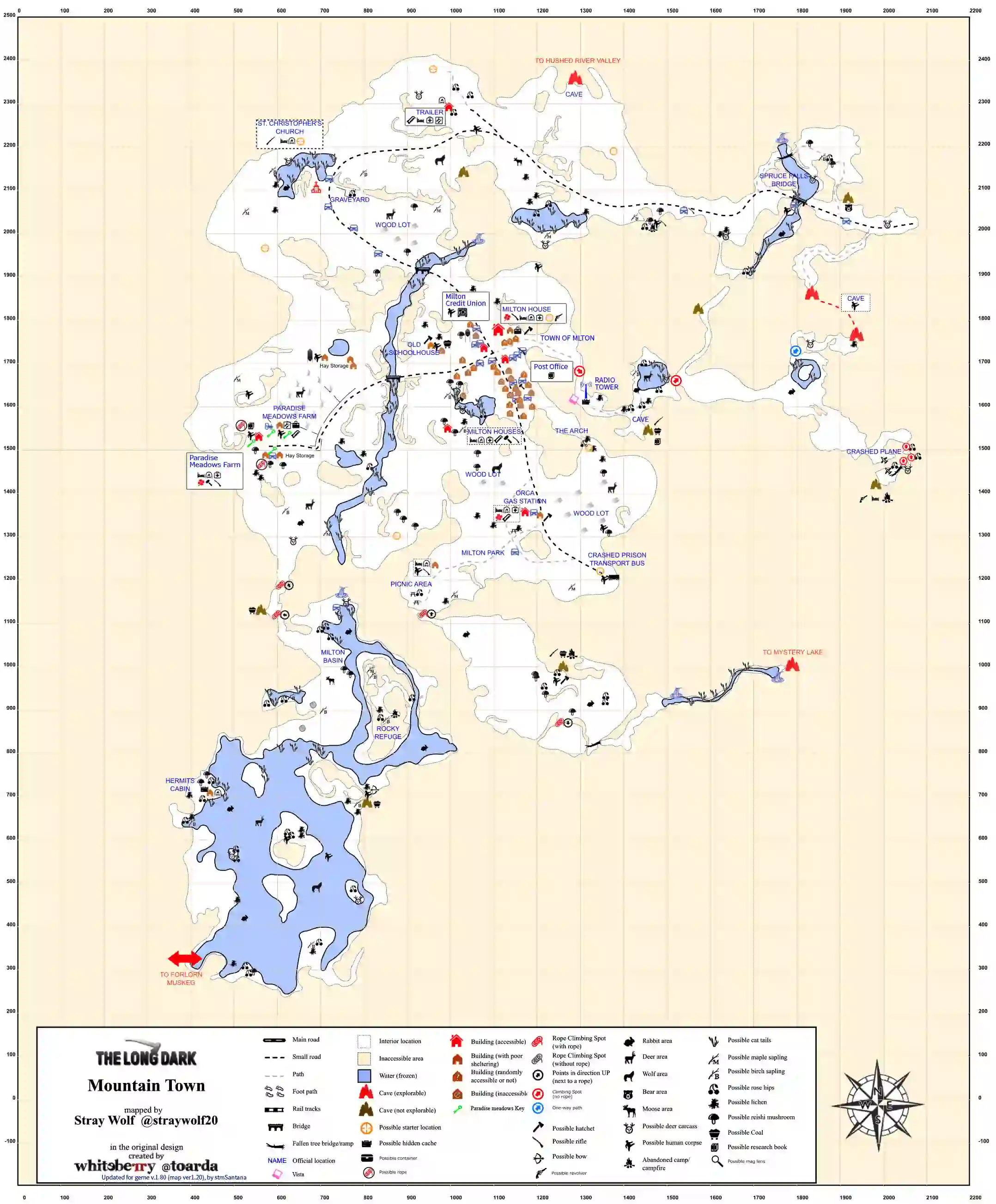 Mountain Town aka Milton is the seventh region added to the Long Dark
This region is enriched with resources and abundant of loot.
This region is important as it is in the middle of map and is for new player.
There are multiple houses in this region.
The region can have some packs of wolfs.
Main areas in Mountain Town are St, Christopher's Church, Bridge, Radio Tower, Mackenzie's Crashed Plane, Orca Gas Station and Paradise Meadows Farms.
Hushed River Valley Map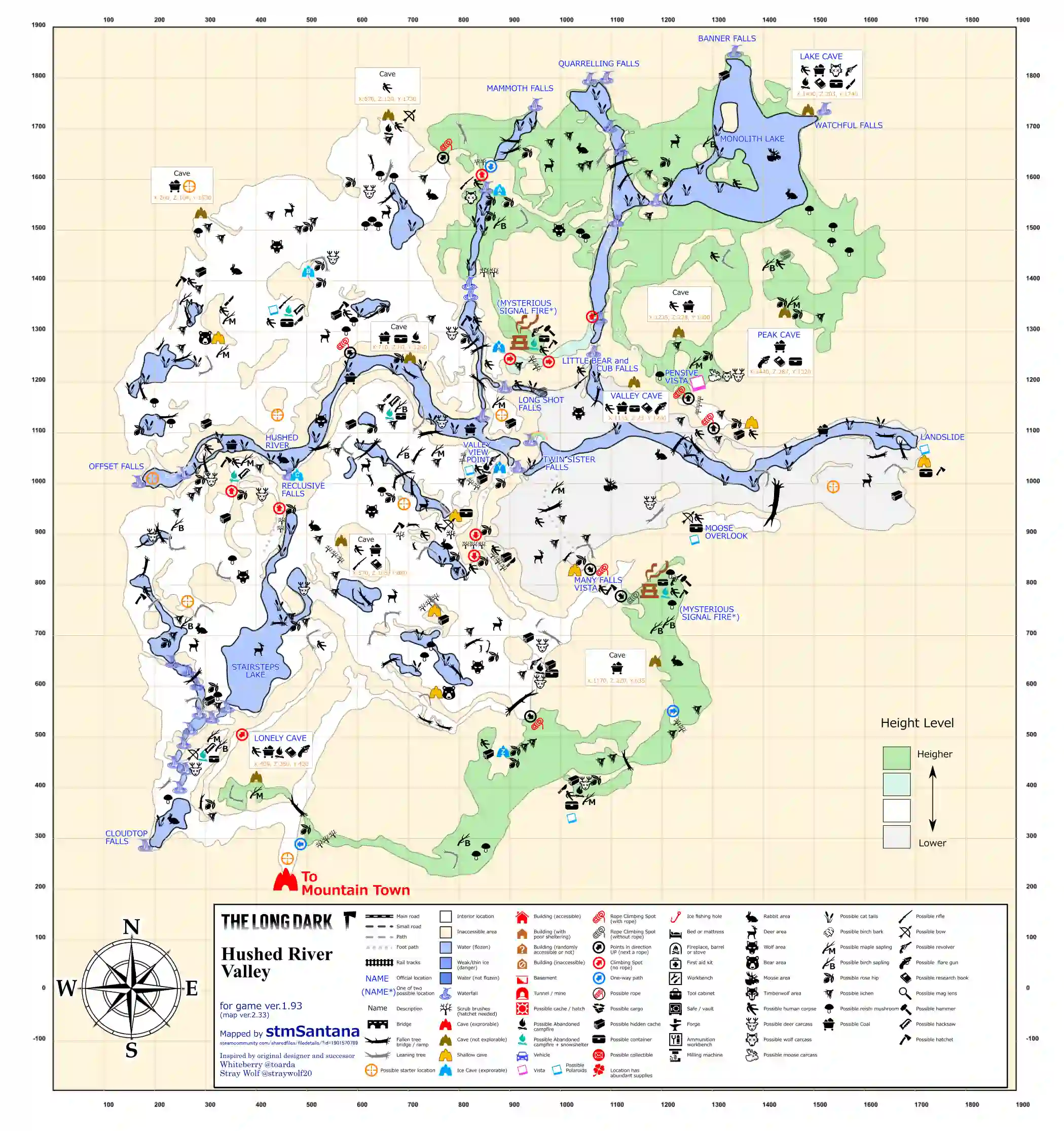 Hushed River Valley is the ninth region added in the long dark.
This region has some stunning waterfalls.
The Hushed River Valley is for the advanced players only.
This region is resource riched with possible location of distress pristol.
Ash Canyon Map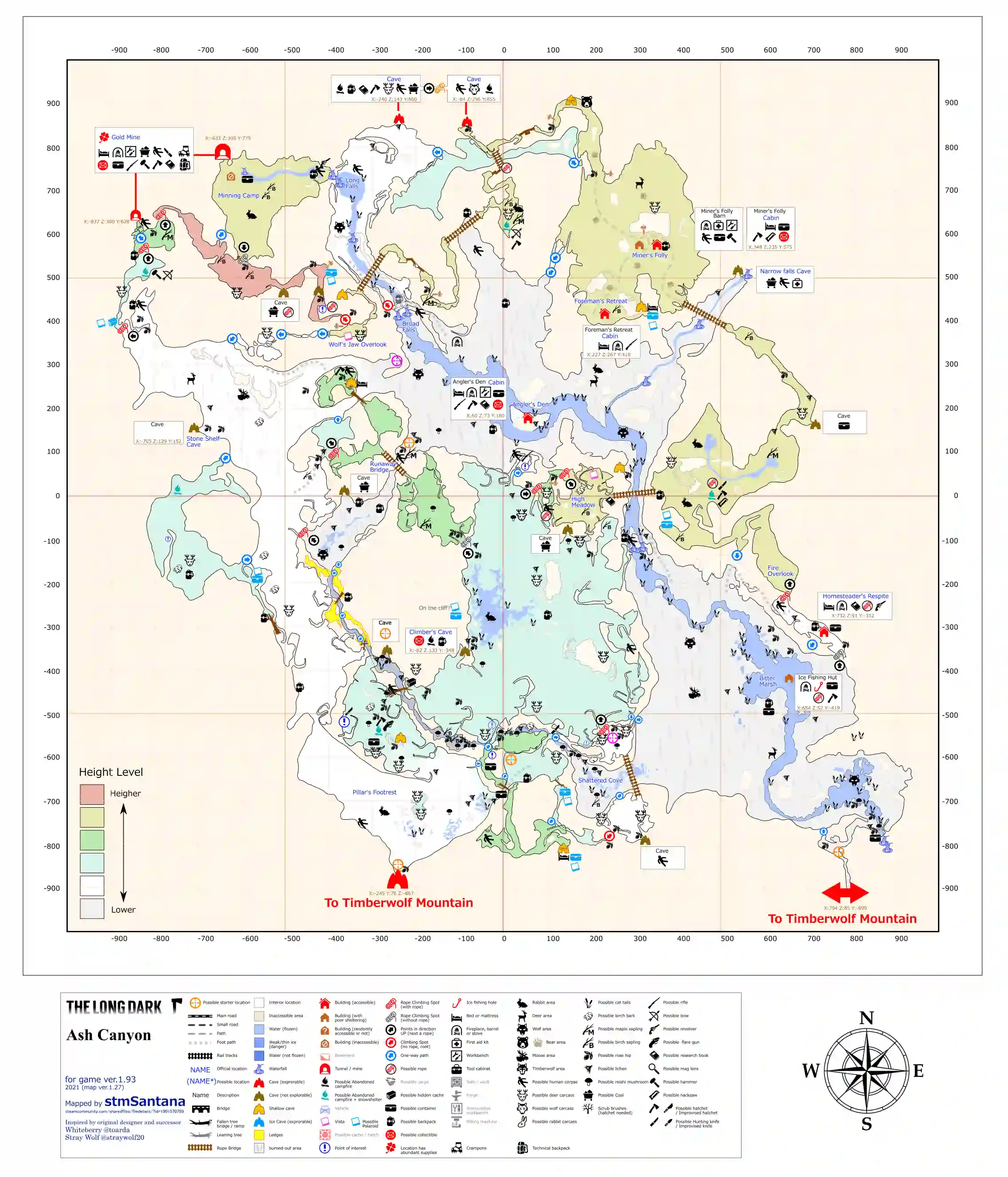 Ash Canyon is for advance players with freezing weather and difficult surviving situations.
This area has some great loot.
Two exclusive items of this area are crampons and technical backback located inside Gold Mine by frozen corpse.
Cinder Hills Coal Mine – Abandoned mine Map ( Coastal Highway to Pleasant Valley)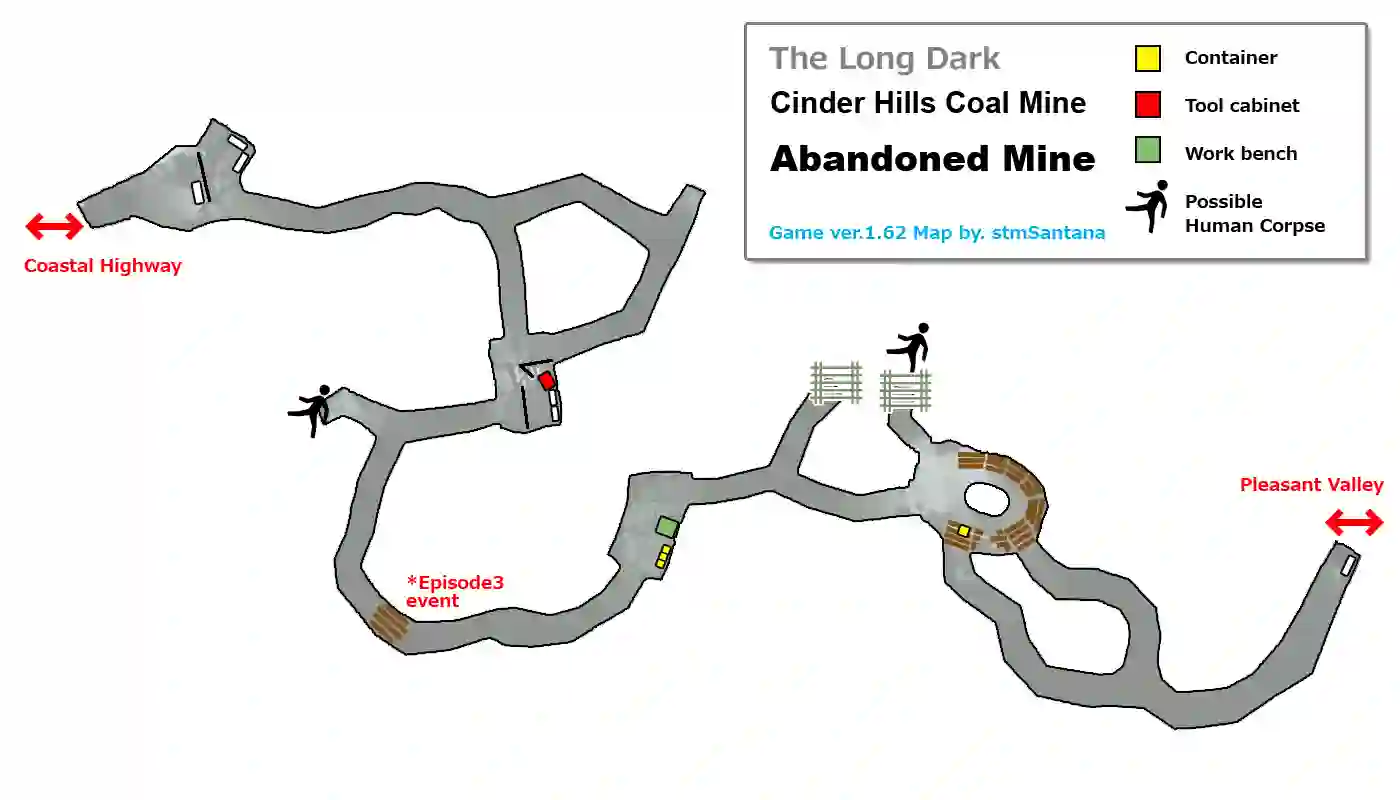 No. 3 Coal Mine – Old Island Connector Map (Crumbling Highway to Desolation Point)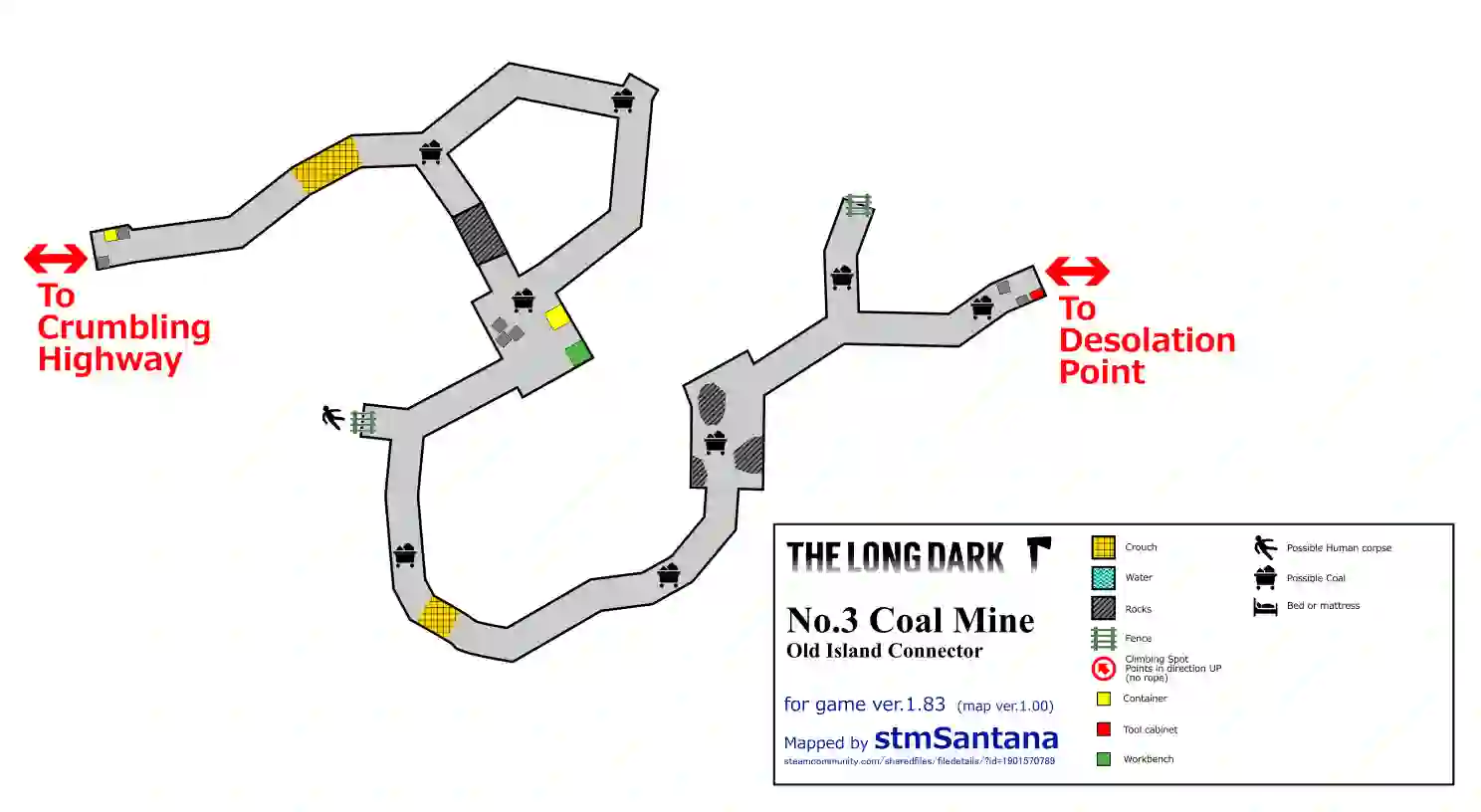 Cave Map (Forlorn Muskeg to Bleak Inlet)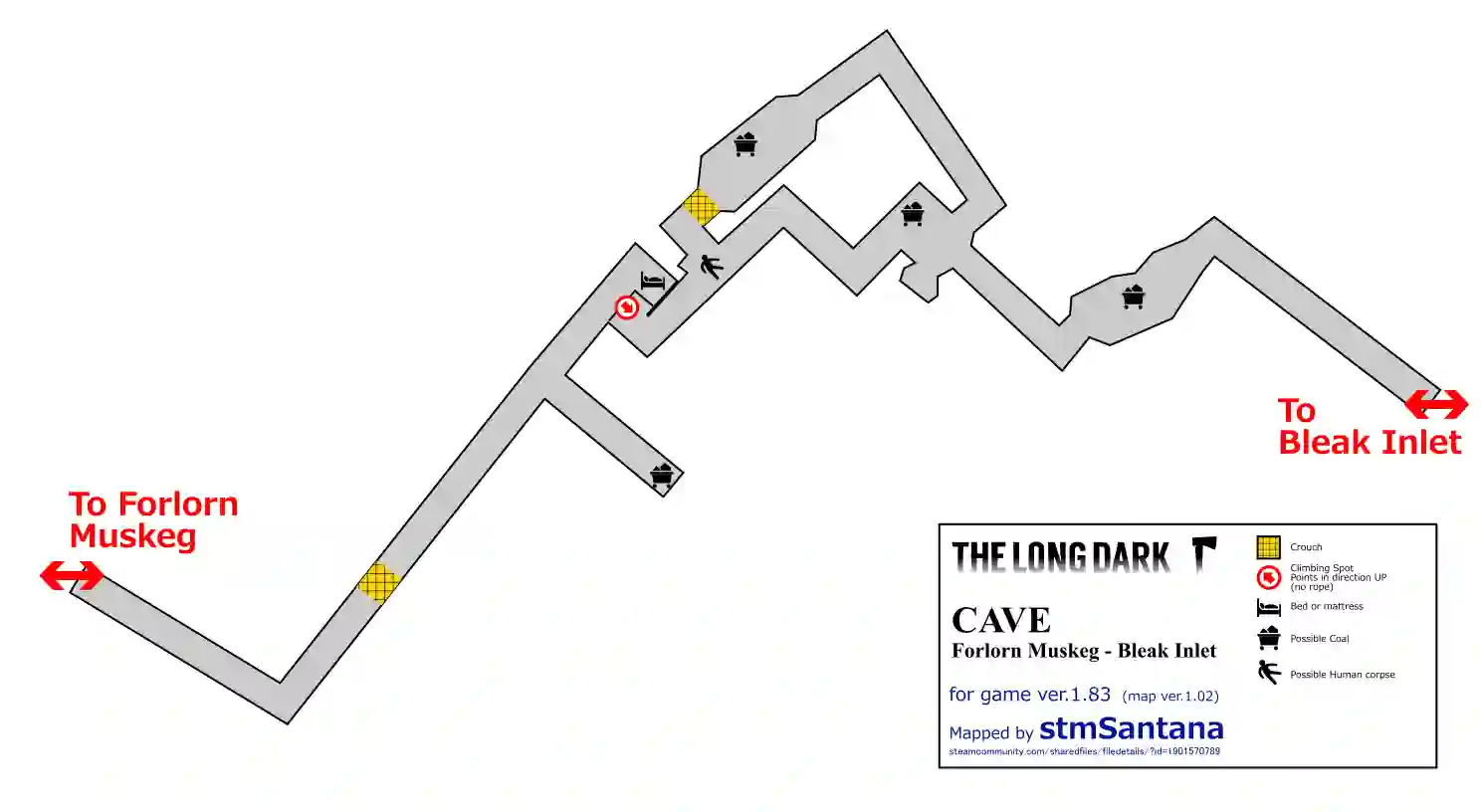 Cave Map (Mountain Town to Hushed River Valley)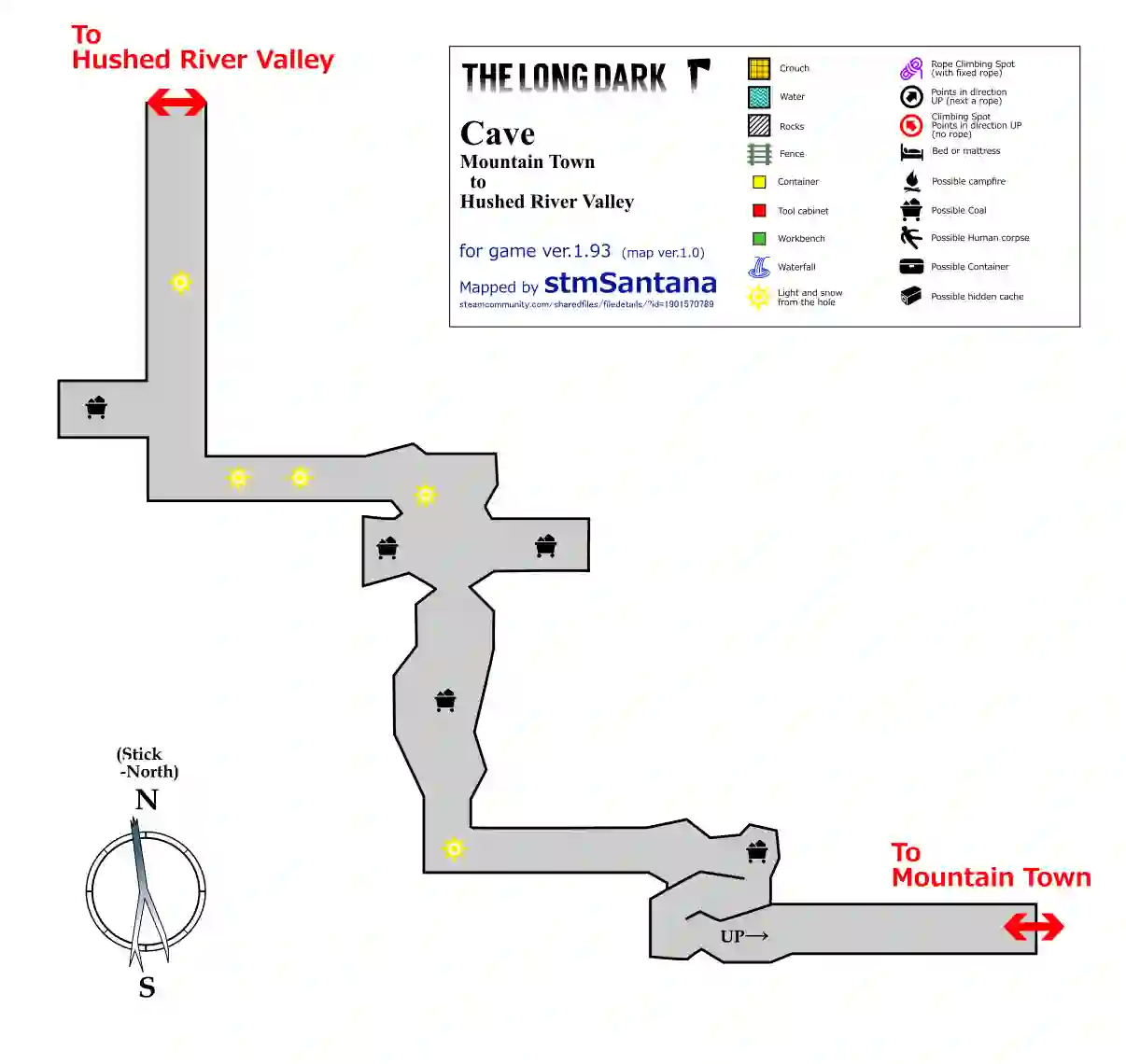 Cave Map (Mystery Lake to Mountain Town)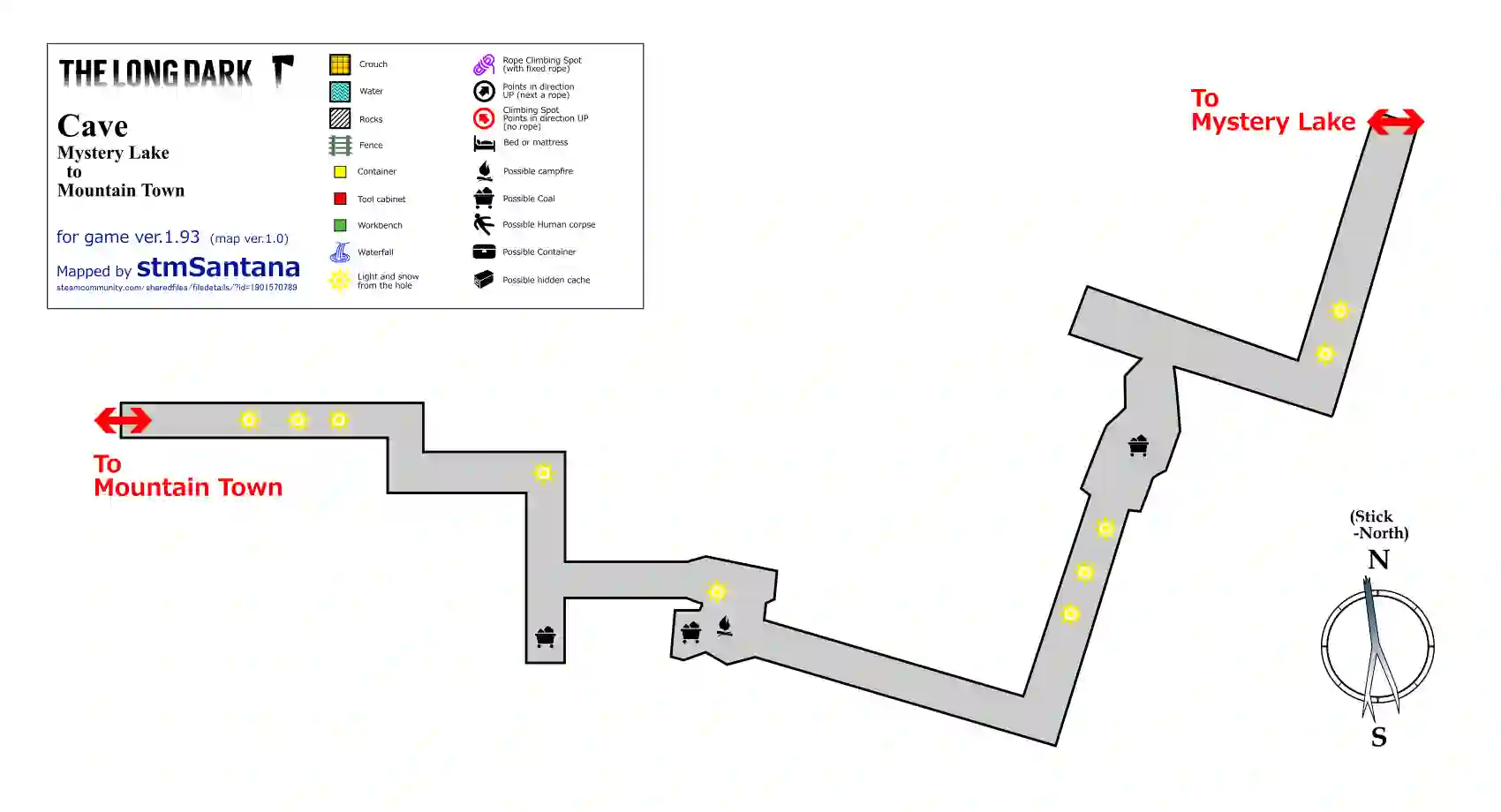 Cave Map (Pleasant Valley to Winding River)

Cave Map (Timberwolf Mountain to Ash Canyon)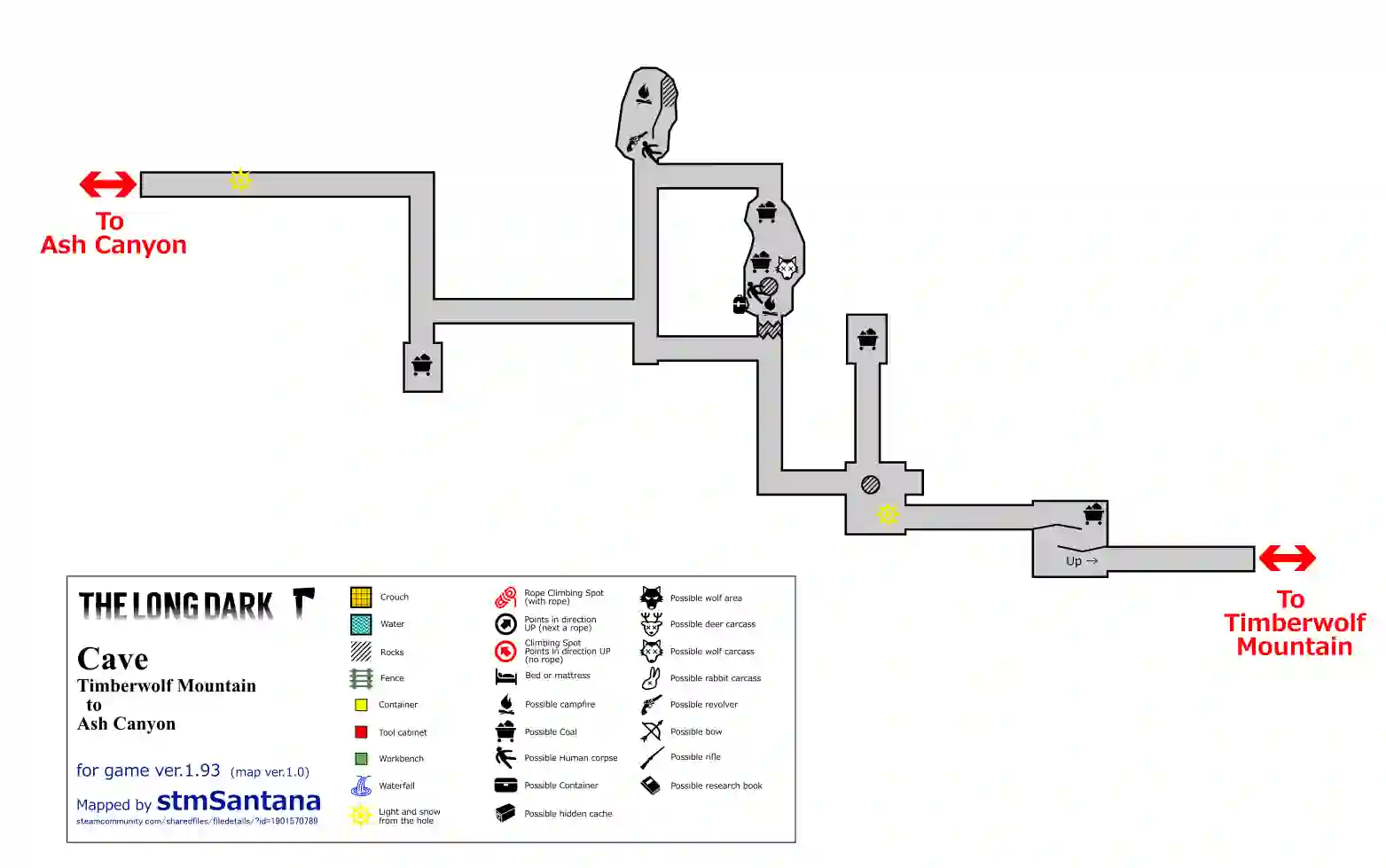 With a degree in IT from Bahria University Islamabad, Hamas Sohail possesses a solid educational foundation that enhances his technical expertise. His time at the university has equipped him with the necessary skills and knowledge to excel in the ever-evolving field of technology. Combining his academic achievements with his gaming enthusiasm, web and mobile app development prowess, and writing abilities, Hamas continues to make a significant impact in the world of games and technology through his insightful articles and innovative creations.