GTA 5 online has plenty of super-fast bikes, but none can beat Western Apocalypse Deathbike (Arena) when it comes to speed
The Apocalypse Deathbike was added to the game on December 11th, 2018, as part of the 1.46 Arena War Update.
Let's look at the most significant features of the Western Deathbike, so you can decide whether it's worth the hype in GTA Online.
All you need to know about the Deathbike in GTA Online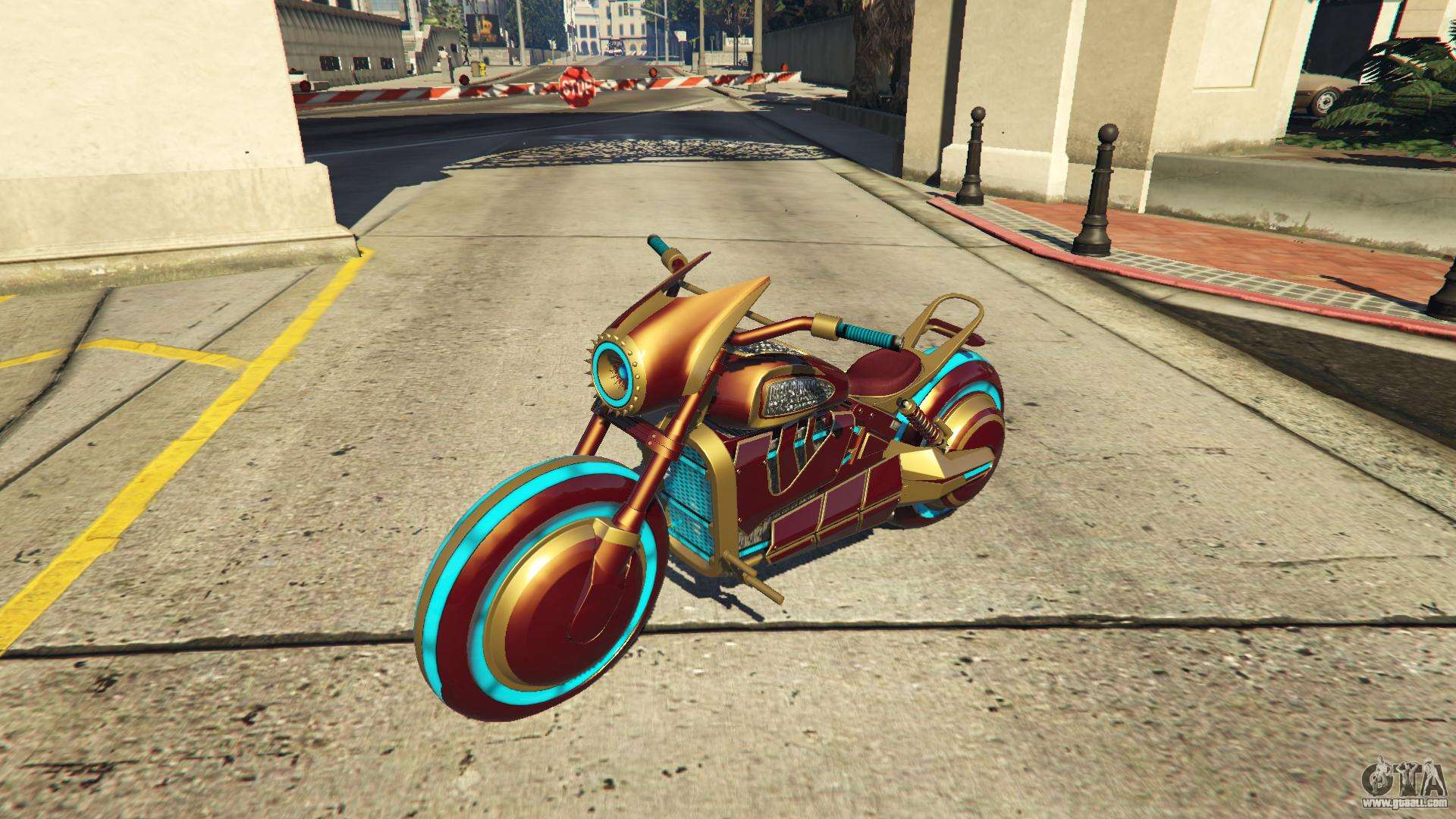 Overview
The Western Apocalypse Deathbike is powered by a V-Twin engine and a 4-speed gearbox, the Deathbike has a high-top speed of 150 mph (241.40 km/h). It also has impressive acceleration and handling.
Western Apocalypse Deathbike is Equipped with a 'Jump Mode', when pressed, it hurls the vehicle into the air with a powerful boost.
It is one of the few vehicles in GTA Online, that is equipped with a speed boost. It increases the acceleration of the bike, making it the fastest bike in the game, so far.
It can take an explosive without being blown. But the player is still vulnerable to gunfire.
It can also host deadly saw blades and two guns on the side.
Western Deathbike (Arena) in real life:

The beautiful design of the Western Deathbike is inspired by real-life Daryl's bike from the TV series, The Walking Dead, that's why it's the most powerful bike in GTA online.
Western Deathbike (Arena) Design
Western Deathbike is a modified version of the base model Gargoyle, with some bodywork and rusty details.
1. Front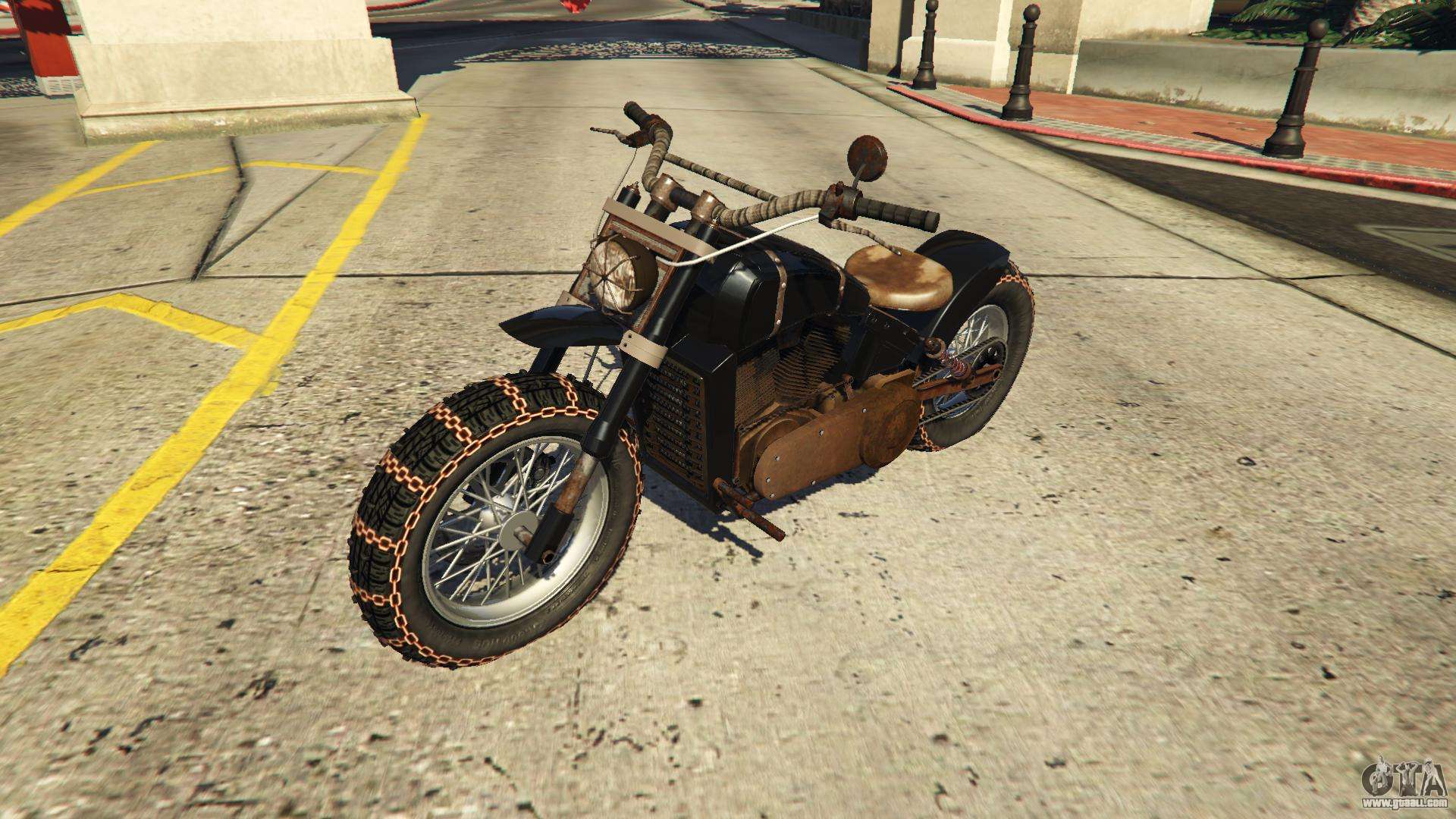 The front has a shorter fender as compared to the Gargoyle's.
Uses a mesh grating between the clamps.
It has a single round headlight and has a protective frame over it.
The handle along with the central frame has an exhaust wrapping texture on it.
The rear-view mirror is on the left side of the handlebar.
2. Main Body
The main body is pretty much like the base model Gargoyle. However, it uses lightweight footpegs for the rider.
There are straps on the fuel tank.
But no transmission cover or dial on the left.
The engine uses a circular air filter.
There are two exhaust pipes on the right.
3. Rear View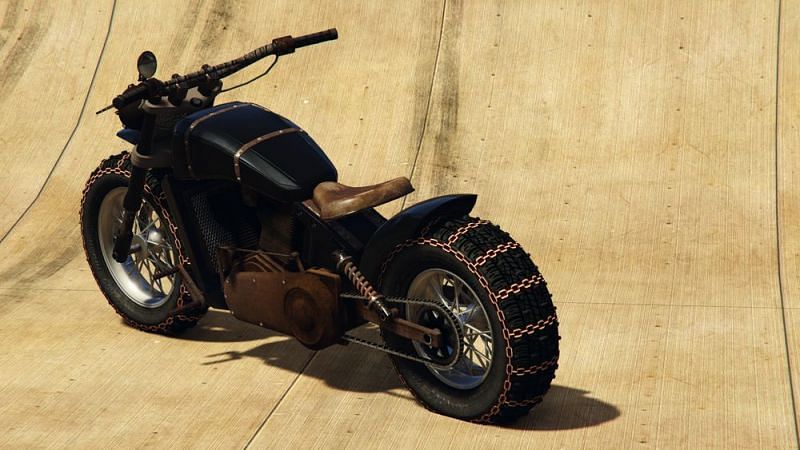 The rear is pretty much like the Gargoyle.
The rear fender doesn't have any taillight, unlike its base model.
4. Paint
It's painted with the primary color, applied on the front forks, fenders, front radiator cover, fuel tank, fenders, and the portion between the engine and the rear wheel.
5. Wheels
It has the same rim design and high-profile tires as the regular Gargoyle.
It has tire chains wrapping both tires, unlike Gargoyle.
Performance
The Deathbike has similar handling to its base model Gargoyle, but it is much faster than all bikes in the game with a top speed of 150mph (241.40 km/h). The upgrades from Arena Workshop make it an excellent choice for hits and runs. It has the same firing sound as the Gargoyle.
Precautions
You should be careful when equipped with blades, any bumps or curbs in the way can hit the blades and may cause you to crash.
You should be careful when driving Deathbike in Arena Events such as Wreck-It and Carnage; if you fall off the bike as a result of being caught in an explosion or an awkward landing, it will count as the player being wasted.
It will be difficult to steer when the tire is punctured, its turning radius will be greatly affected.
Abilities
Deathbike can be installed with the "Jump mode". This modification comes in three levels of effectiveness and can be activated using the horn button. It launched the vehicle in the air, similar to the Scramjet and Ruiner 2000.
Deathbike can be installed with the Rocket boost upgrades. It increases the acceleration of the vehicle. You can use it repeatedly while driving the vehicle, but let it fully recharge for maximum efficiency.
Armor
The Deathbike can save itself from an explosive without being destroyed but the rider is vulnerable to gunfire. You can use Heavy Armory upgrade to save yourself from gunfire, as a riot shield is mounted over the rear side of the vehicle, acting as a rear defense when escaping from a vehicle chasing you with the front machine gun.
Weaponry
It can be modified with two Gatling miniguns on the sides, which behaves like Weaponized Tampa Gatling guns. It's not powerful against armored vehicles, but still deadly to on-foot enemies and unarmored vehicles. The handling of the vehicle makes aiming easier while on movement.
The bike can be equipped with saw blades, which deals damage to players and NPCs, contact with the bike's blades can damage tires or instantly kill them.
Upgrades for Deathbike
Category
Modification
Cost
Brakes
Stock Brakes
$1000
Street Brakes
$20,000
Sport Brakes
$27,000
Race Brakes
$35,000
Boost
None
$20,000
Boost Upgrade 20%
$100,000
$50,000 (AW)
Boost Upgrade 60%
$230,000
$115,000 (AW)
Boost Upgrade 100%
$400,000
$200,000 (AW)
Bodywork Spikes
None
$5000
Body Spikes
$27,500
Blades
None
$50,000
Spinning Blades
$145,000
Armor Plating
No Armor Plating
$20,000
Light Armor
$110,000
$55,000 (AW)
Reinforced Armor
$175,000
$87,500 (AW)
Heavy armor
$300,000
$150,000 (AW)
Engine
EMS Upgrade, Level 1
$9,000
EMS Upgrade, Level 2
$12,500
EMS Upgrade, Level 3
$18,000
MS Upgrade, Level 4
$33,500
Lights
Stock Lights
$600
Xenon Lights
$7,500
White Lights
$20,000
Blue Lights
$49,200
Electric Blue Lights
$49,200
$24,600 (AW)
Mint Green Lights
$50,400
$25,200 (AW)
Lime Green Lights
$51,000
$25,500 (AW)
Yellow Lights
$51,600
$25,800 (AW)
Golden Shower Lights
$52,200
$26,100 (AW)
Orange Lights
$52,800
$26,400 (AW)
Red Lights
$53,400
$27,300 (AW)
Pony Pink Lights
$54,000
$27,000 (AW)
Hot Pink Lights
$54,600
$27,300 (AW)
Purple Lights
$55,200
$27,300 (AW)
Black Lights
$80,000
$40,000 (AW)
Livery
None
$11,400
Half Baked
$18,240
Rough round the Edges
$38,760
$19,380 (AW)
I Wish My Car Was This Dirty
$41,040
$20,520 (AW)
Wasteland Warrior
$43,320
$21,660 (AW)
Loss/Theft Prevention
Tracker Full Coverage
—
Transmission
Stock Transmission
$1,000
Street Transmission
$29,500
Sports Transmission
$32,500
Race Transmission
$40,000
Turbo
None
$5,000
Turbo Tuning
$50,000
Vertical Jump
None
$5000
Jump Upgrade 20%
$130,000
$65,000 (AW)
Jump Upgrade 60%
$224,000
$112,000 (AW)
Jump Upgrade 100%
$420,000
$260,000 (AW)
Weapons
None
$50,000
Mounted Miniguns
$297,000
(AW) Means, you can unlock this item for purchase via the Arena War Career.
The Table includes almost all Upgrades for Deathbike (Arena)
How to get Western Apocalypse Deathbike in GTA online?
To get Deathbike in GTA Online, you need to buy the original Gargoyle and then upgrade it to the custom variant (Future Shock, Apocalypse, or Nightmare) at the Arena Workshop.
The Deathbike can be purchased from ArenaWar.tv in GTA online for a total of $1,269,000.
Where can you store the Deathbike (Arena)?
You can store the Deathbike in your Garage, Arena Workshop, and MC Clubhouse.
Deathbike can be customized at Arena Workshop.
How much can you sell it for?
You can sell it at Los Santos Customs for 60% of the original purchase ($761,400), plus 60% of the value of all upgrades.
All useful information related to Deathbike
| | |
| --- | --- |
| Class | Motorcycles |
| Manufacturer | Western |
| Features | Can be customized, Armed, Arena Contender, Rocket Boost, jump mode. |
| How to Unlock | By buying base model "Gargoyle" and then customized to other Variants.  |
| Variants | Future Shock, Apocalypse, and Nightmare |
| Dealer | ArenaWar.tv |
| Base Model | Gargoyle (Price: $120,000) |
| GTA online price | $1,269,000 |
| Storage | MC Clubhouse, Personal Garage, Arena Workshop |
| Modified at | Arena Workshop |
| Resale | 60% of the original price and upgrades |
| Sound | Similar to Gargoyle |
| Top Speed (Game Files) | 91.34 mph (147 km/h) |
| Top Speed (IN-Game) | 150mph (241.40 km/h) |
| Real-Life Model | Daryl's bike for the TV Series "The Walking Dead" |
| Seats | 1 |
| Mass/Weight | 135 kg |
| Drive Train | RWD |
| Gears | 4 |
All information you might need about the Deathbike.
Western Deathbike (Arena) Statistics
| | |
| --- | --- |
| Speed | 78.87 |
| Acceleration | 78.13 |
| Braking | 36.67 |
| Handling | 62.12 |
|   | Overall= 63.95 |
Western Deathbike Statistics
Bugs and Glitches in Deathbike
Like Gargoyle, it suffers from a glitch in which a larger rim on the rear wheel can etch into the ground when performing a wheelie. It gives the vehicle tremendous speed and boosts.
Artwork and Promotional Poster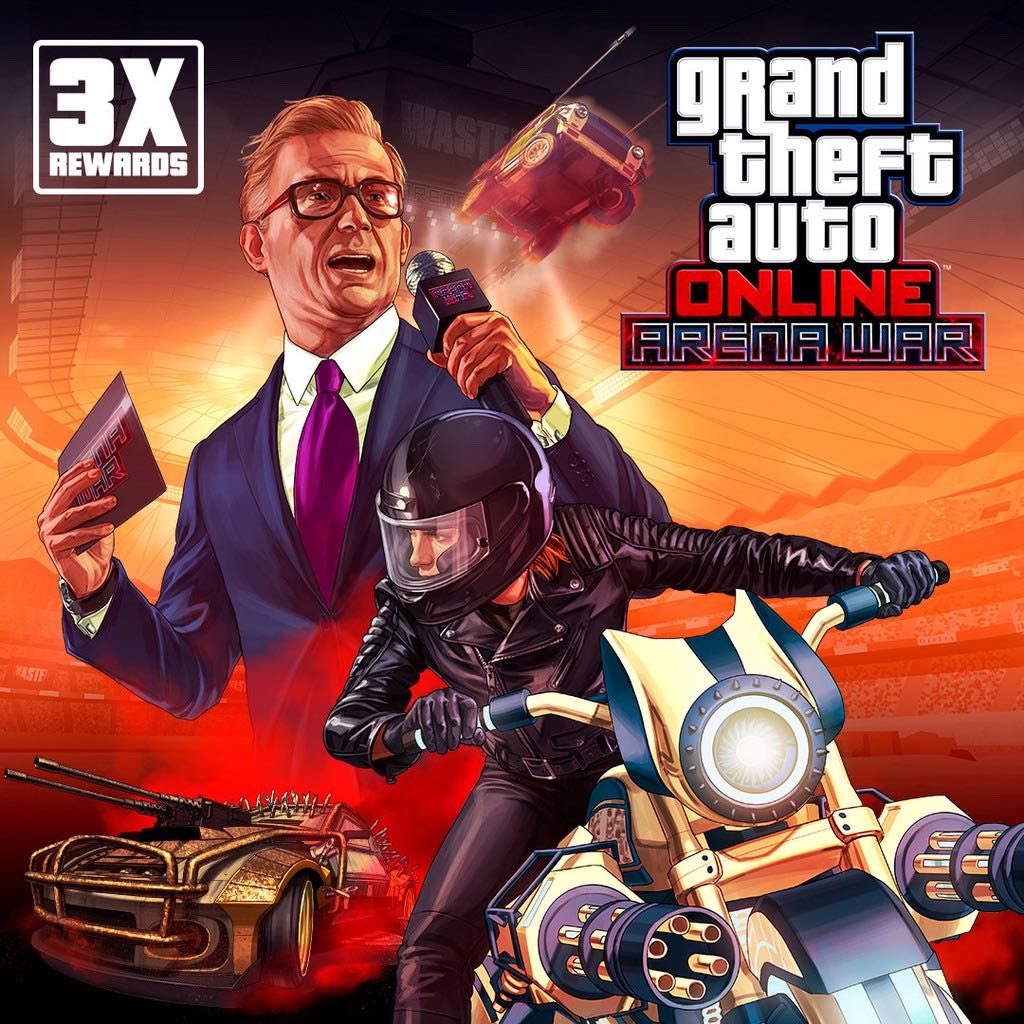 With 3 years of Video Game Journalism and tremendous love for games. Hamas loves to write about video games.
He believes that Video games are meant to be just one thing: Fun! Fun for everyone.